Fencing Ireland's Senior calendar of events/ competitions can be viewed on Fencing Ireland Events. You must log in or Register to see / enter one of our up coming events / competitions 
To qualify to take part in any of our competitions you must be over 13 years, and have a current relevant Fencing Licence 
Senior Ranking System
The National Circuit is central to the rankings scheme. Ranking points are calculated according to the sum of a fencer's best six results, at least four of which must come from the National Circuit series. Up to two non-Circuit results can be counted, therefore fencers who have not entered at least four National Circuit events will not be able to count a full complement of six results.
Fencing Ireland Awards
For internal awards purposes, the domestic season will be defined as the period between the South of Ireland Open and the National Championships. National awards will be given on the basis of the rankings at the close of the National Championships. Ranked competitions that fall after the National Championships will still be recognised on the rankings and for the duration of the following season.
The ranking system is aligned with Fencing Ireland's selection policy, which stipulates that fencers must succeed at FIE satellites before they qualify for World Cup selection. Due to the effort/expense involved in attending these stronger competitions, fencers are awarded Irish ranking points for competing at qualifier events. The Selectors have recommended the inclusion of some of the stronger UK opens in the selection criteria to widen the choice of competitions for weapons in which there are very few satellites.
The fundamental principles of the ranking system are:
The points allocation is based on a multiplier system. Each direct elimination stage has been assigned a multiplier which is used to increase the points as a fencer progresses through a competition. All fencers when entering a ranked competition are awarded a minimum starting points. As a fencer progresses through the competition these points have the multipliers below applied until a they are eliminated – 
| | |
| --- | --- |
| Number of DE progressed | Multiplier |
| 1 | 1.88 |
| 2 | 1.87 |
| 3 | 1.65 |
| 4 | 1.48 |
| 5 | 1.36 |
| 6 | 1.28 |
| 7 | 1.23 |
| 8 | 1.23 |
The weighting given to a standard domestic open is 100%. Tournaments are classified into four tiers, with each tier attracting a different weighting depending on the perceived relative difficulty of the competition. The number of points available for any competition will then depend upon the number of fencers who enter in that weapon that year. 
The tables show the number of points awarded to fencers in competition, which depends on the number of fencers competing in the event and the round in which the fencer finishes. The columns denote the number of fencers entered in the competition.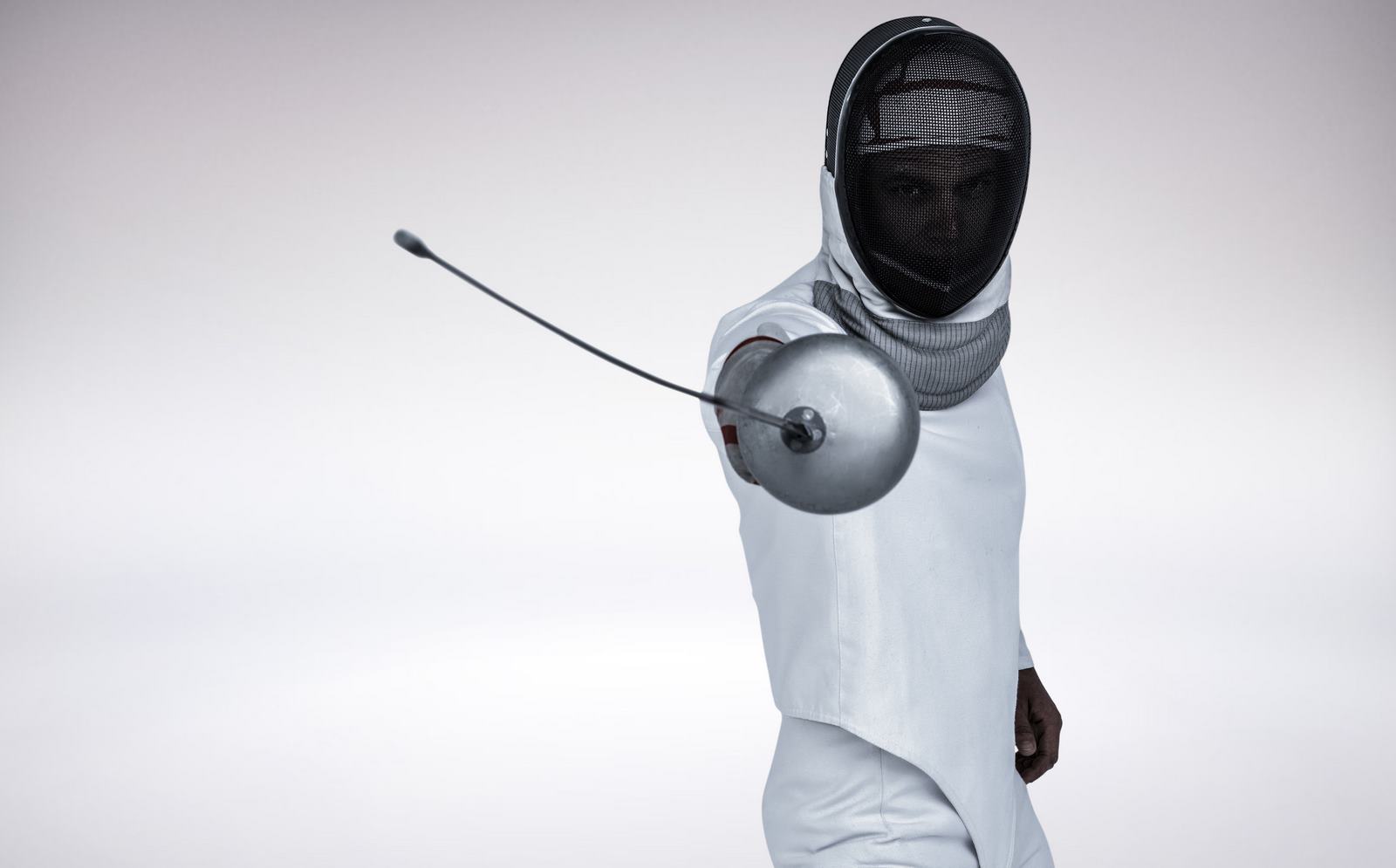 Fencing is a sport which can be continued throughout life, what may be lost in agility and speed can often be made up in experience and cunning.
Veterans' events are open to any fencer over the age of 40, and the veterans section is thriving at all levels.
The European Veterans Fencing Committee (EVFC)  was set up in 1991 to promote participation by older fencers, and to give them a wider range of competitive opportunities.
Veteran Fencing in Ireland
Fencing Ireland established a Veterans Committee in March 2008 to lead the co-ordination of fencing events for veterans. Our veterans' committee is affiliated to the EVFC and aims to promote participation at domestic and overseas events from fencers over 40.
Committee: Michael Ryan (chair), Eric Kemp, Yvonne Murphy and Tom Rafter
Veterans Tournaments
Recent years have seen new competitions restricted to those over forty years of age. These Veterans events include an officially recognised World and European Championship, with different age categories for fencers over 40, over 50, over 60, and over 70. Large overseas events are increasingly adding a veteran event to their schedule
Ireland participates in a number of team competitions for veterans, including the Veteran Four Nations and the Celtic Challenge.
Please find a list of events below. Consideration for veterans events is on an opt-in basis, so please contact the Veterans Committee if you are interested in taking part!

View Irelands most recent and spectacular veteran win by Philip Lee at the European Veteran Championships 2019 - View 
Upcoming YEARLY events -
Veterans Quadrangular (or Veteran Four Nations) takes place in May and involves teams from England, Ireland, Scotland, and Wales. It is open to any fencer over 40 subject to eligibility
European Championshipsare held each May, alternating between an individual and team championship. Individuals are split into 40+, 50+, 60+ and 70+ while teams are split into Veteran (40-59) and Grand Veteran (60+).
The biennial Celtic Challengerotating between nine Celtic regions from Scotland to Spain each July. Any eligible fencer over 40 may take part.
World Championshipsrun every October, including both a team event and an individual event. Fencers are split into A, B, C denoting 50+, 60+ and 70+ respectively.
If you would like to have an event or camp listed on this website, please email the Calendar Officer at competitions@irishfencing.net.