Fencing Ireland is the governing body of the sport of fencing in Ireland, located in the National Sports Campus, Snugsborough Rd. Blanchardstown, Dublin 15.
It is recognised as such by the Federation Internationale d'Escrime (FIE)….and by Sport Ireland and the Olympic Federation of Ireland. It is also affiliated to the European Fencing Confederation (EFC), and to the European Veterans Fencing Committee (EVFC).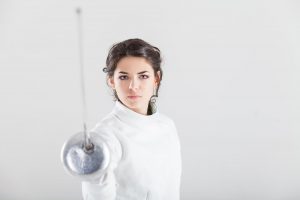 Fencing Ireland is structured as a limited company with articles of association and a constitution. Its activities are managed by a committee elected by members at a Annual General Meeting. Sub-committees deal with international selection, veterans, youth fencing, and marketing.
General Manager - Dearbhla Foley  0868052188 - dfoley@irishfencing.net
Development Officer - Colm Flynn  0861933921 development@irishfencing.net
Mission
The object for which the federation is established is to promote, foster and develop the sport and art of fencing.
Core Values and Principles
As the recognised National Governing Body (NGB) of fencing in Ireland, Fencing Ireland is established to make rules and regulations for the proper conduct of competitive fencing in Ireland and by Irish athletes abroad.
Constitution
Fencing Ireland's Constitution (comprising Memorandum of Association and Articles of Association) may be viewed here: - CLICK
Date Protection and Privacy 
Please click on the link to view our updated  GDPR policy



1906: Irish Fencing Club set up in Dublin, running until 1917 as the first sword club in Ireland to place a focus on sport and fitness.
1933: Irish Fencing Club revived, swiftly followed by four more clubs in Dublin and Cork.
1936: The Irish Amateur Fencing Federation (IAFF) formally established as an umbrella body for the sport. The first President was Dr (later Sir) John Lumsden, founder of the Irish Red Cross and St John Ambulance Ireland.
1948: Dorothy Dermody was first Irish female Olympian in London
1952: Epeeists Tom Kearney and George Carpenter were joined by Harry Thuillier at foil and Patrick Duffy in both weapons.
1960: Ireland makes its debut in team event contesting Mens Epee, Shirley Armstrong was the second Irish female Olympian to fence in Women's Foil
1964: Michael Ryan and John Bouchier-Hayes compete  in all three weapons at the Tokyo Olympic Games and reach the quarter-finals at epee and foil respectively.
1968: Ireland fields a team in all three men's weapons at the Mexico Olympics.
1992: The tricolour appears at the Barcelona Olympics after a 20-year absence as Michael O'Brien becomes the first Irishman since John Bouchier-Hayes to compete in the epee.
2008: The IAFF changes its name to the Irish Fencing Federation (IFF).
2008: At Beijing, Siobhan Byrne becomes the first Irish Olympian to contest Women's Sabre.
2016: New branding and logo as the IFF becomes Fencing Ireland.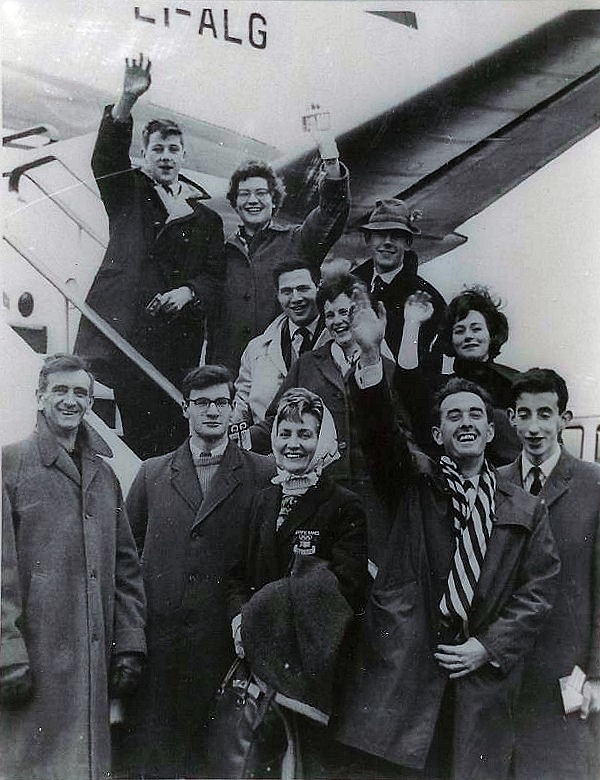 The Flight to Gent…Some of our more established members heading off to Belgium to the U20 World Championships in 1963. From the back: John Boucher-Hayes and Frances Alexander
Martin Simmons, Nuala Parker, Ricky Robinson and Ethel Elliman
Prof Paddy Duffy, Vernon Armstrong, Shirley Armstrong, Vincent Duffy, Michael Ryan