Senior competitions calendar
Youth competitions calendar
Lord Killanin Trophy - November 6th
The NI Junior Foil Series - updated
NI Junior Foil Series dates:
Round 1 - Sunday 04 December 2022 - RBAI, Belfast
Round 2 - Sunday 05 February 2023 - RBAI, Belfast
Round 4 - Sunday 05 March - Sullivan Upper School, Holywood
Round 5 - Sunday 26 March - Sullivan Upper School
All 5 events now published on the NI Fencing website. 
NOTE: Due to circumstances beyond their control, NI Fencing had to cancel Round 2 in January of the Junior Foil Series.
There will an EXTRA round in May, to make sure we have 5 rounds in total. Details will be published on the NI Fencing and Fencing Ireland websites in the New Year. 
Your entry fees will be reimbursed shortly - please keep an eye out for them and let James Penny know if there are any problems (james.penny@nifencing.com).
Christmas Cup - December 11th
Pembroke Fencing Club - Dalkey, Co Dublin  
Details here: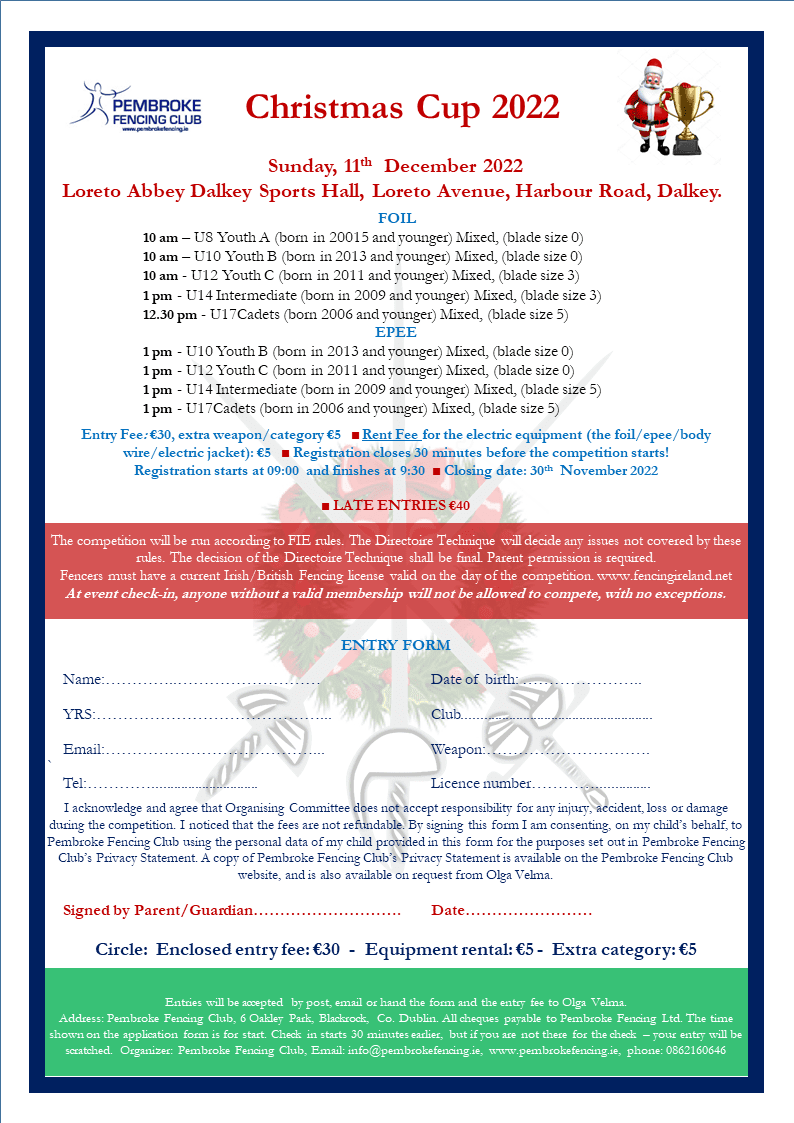 Munster Cup - January 15th 2023 - Nenagh, Co Tipperary
Excalibur Cup - February 26th
Spring Cup - Nenagh - March 26th 2023
Date - TBC
Location - St Marys Secondary School, Nenagh, Co. Tipperary
Enter -
For more information - patrick@munsterblades.ie
The Youth Irish Open - Pembroke May 14th 2023
Pembroke Fencing Club - Dalkey, Co Dublin  
Details to follow shortly 
How to enter 
MEMBERSHIP/ EVENT MANAGEMENT
In an effort to simplify our membership/EVENT management Fencing Ireland are very excited to introduce you to our brand new Membership and Event system provided by GoMembership.
This system has been designed to enable members
Purchase / Renew their membership with FI
Register / Pay for Competitions online
Maintain their own member profile
Associate themselves to a club
You must log in or /Sign up to GO membership to enter one of our up coming events / competitions.
Entry for all Fencing Ireland's events/ competitions can be done on Fencing Ireland Events.
Sign up is FREE and you only need to do it once.
To qualify to take part in any of our competitions you must have a current relevant Fencing Licence. 
You must be over 13 yrs for senior events - under age events 7 yrs up.