To apply to represent Ireland at international fencing events, please complete the application form linked above. To contact the Fencing Ireland selectors with other queries please email: selectors@irishfencing.net
Cadet/Junior European & World Championships 2020
The squad selected to represent Ireland at the Cadet European Championships in Porec, Croatia in Mid February as well as or the Cadet World Championships in Salt Lake City, USA at the start of April has been named.
Cadets
MF – Claudio Sosa Smatrala
WF – Isabella Keniston-Cooper
WF – Kaitlyn McGillion-Moore
Juniors
MF – Jake McGillion-Moore
MF – Claudio Sosa Smatrala*
MF – Finn McMullan
WF – Genevieve Clarke
WF – Kaitlyn McGillion-Moore*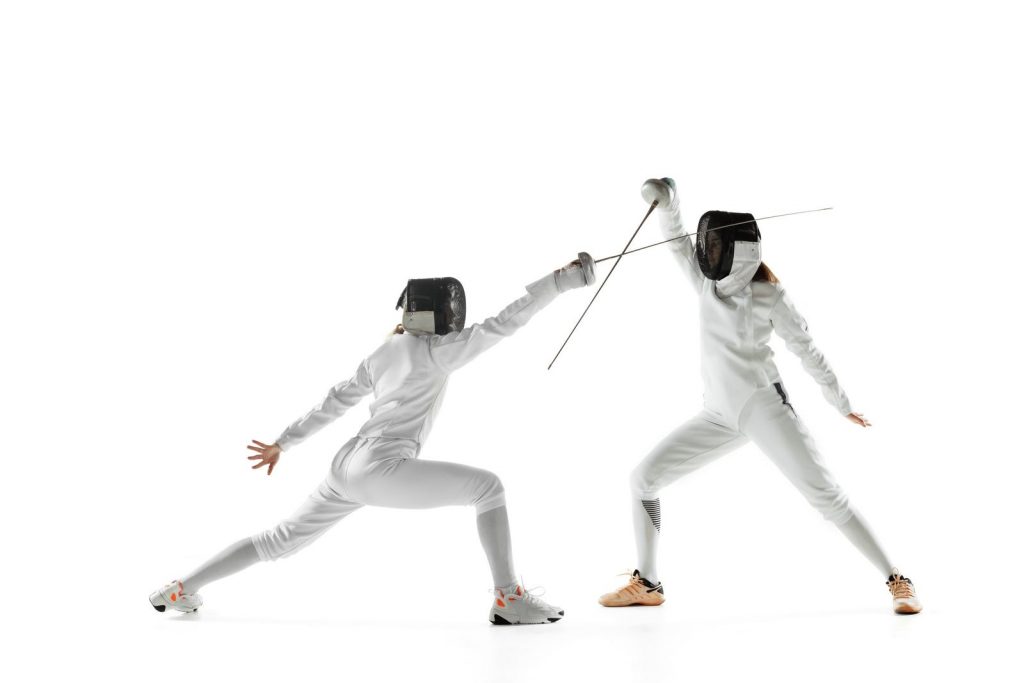 Five Nations 2019
The squad representing Ireland at the 2019 Five Nations has been named. This year's Five Nations will take place in DCU, Dublin on November 23rd.
Men's Épée
Tom O'Brien
Rory High
Sean Ryan
Paddy Brennan
Women's Foil
Anna Lee
Annemarie Sullivan
Fiadhnait McDonough
Emilia Velma
Women's Épée
Natalya Coyle
Isabelle Clarke
Alisha Mullen
Camille Hindsgaul
Men's Sabre
Michalis Kirimlidis
Aidan Clarke
Stephen Concannon
Colm Kelleher
Men's Foil
Michael Thompson
Claudio Sosa Smatrala
Conor Nagle
Christopher Lennon
Women's Sabre
Imogen McGuckin
Lillias Healy
Bethany Rush
Sadhbh Skehan
Irish Kit 
On the Piste
Fencers representing Ireland at EFC or FIE events must display their name and nation code on their kit as follows:
Surname and country code (IRL) are required on the back of the fencing jacket (at épée) or lamé (at foil and sabre) in accordance with FIE Rule m.25, part 3 h) :The name of the fencer must be displayed on the back of the jacket, with the abbreviation of the national federation below it, at the level of the shoulder blades. They must be printed directly onto the jacket or onto a cloth entirely sewn onto the jacket. The letters must be in dark blue, in capitals, between 8 cm and 10 cm high, and between 1 cm and 1.5 cm wide, according to the length of the name.
For FIE events national colours are compulsory as follows:
National colours are required in accordance with FIE Rule m.25, part 3 g). The national colours should be printed or embroidered on to both legs of the breeches.
A copy of the national colours may be downloaded here. The logo should cover an area measuring 300 mm x 68 mm on each leg.
Please note that the Irish national colours should NOT appear on the arms of the jacket, but on the breeches only as shown opposite.
National colours not required at EFC Cadet or U14 events.
Optional: Ireland Mask
An official mask design for Irish fencers has also been registered with the FIE and is approved for use at FIE competitions, as follows. Please contact your mask manufacturer when ordering to request a mask with the Irish national design. Use of painted masks is entirely optional.
Other Uniform Requirements
Before travelling to any international competition, always check the latest edition of the FIE Rules For Competition (available on the FIE website) to ensure your equipment conforms fully to the rules. The FIE Rules are reviewed throughout the season and subject to change.
Note: When competing in team events at World Cups, European Championships, and World Championships, all athletes must have matching socks!
Please contact Nuala McGarrity regarding the availability of the official Ireland Tracksuits - admin@irishfencing.net